Without the generosity of donors and volunteers, Dream Power could not facilitate many of the meaningful programs it provides.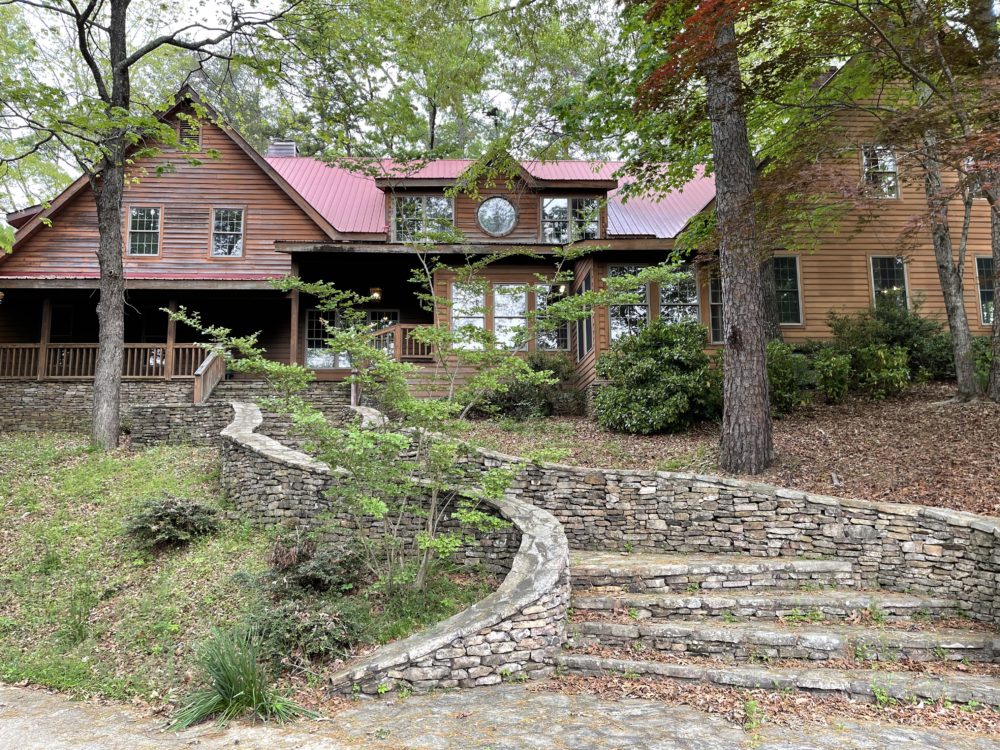 Dream Power Therapy's new facility provides the perfect setting to now offer full one week Intensives.  Provided by certified Peer Specialist and verified therapeutic riding instructors, the 7 day equine intensive retreats are for clients ages 14+ who have mild to moderate mental health issues causing them daily living challenges and who need a "reset" for their self-care to get into a new pattern of a stable and happy lifestyle.  We focus on the whole person – body, mind and spirit – and multiple issues at the same time, whether it be substance abuse with a concurring issue, PTSD, or a cycle of anxiety and depression someone can't seem to get out of on their own.  The 7 day intensive provides daily equine therapy groups that incorporate dialectical behavior therapy (DBT) skills with nutritional plans specific for mental health and yoga/meditation and journaling to take control of our own mental health process.  We work with your mental health provider or help you find one that suits you if it becomes part of your wellness plan that you design for yourself while you are here.  The goal is to have people leave empowered by being fully in charge of their wellness journey through positive experiences showing them they do have what it takes to live a happy and purposeful life.  It's a wonderful and highly effective alternative to a stay in a mental health hospital!
Some Conditions Helped By Therapeutic Horsemanship
ADD / Hyperactivity Disorders
Autism / Asperger's
Developmental Delayed
Learning Disabilities
Post Traumatic Stress (PTSD)
Stroke
Amputation
Behavioral Disorders
Down Syndrome
Multiple Sclerosis
Reactive Attachment Disorder
Substance Abuse
Visual Impairment
Anxiety
Cerebral Palsy
Emotional Disorders
Muscular Dystrophy
Spina Bifida
Terminal Illness
Weight Control
At-Risk Youth
Depression / Grief
Family Counseling

Paralysis
Spinal Cord Injury
Traumatic Brain Injury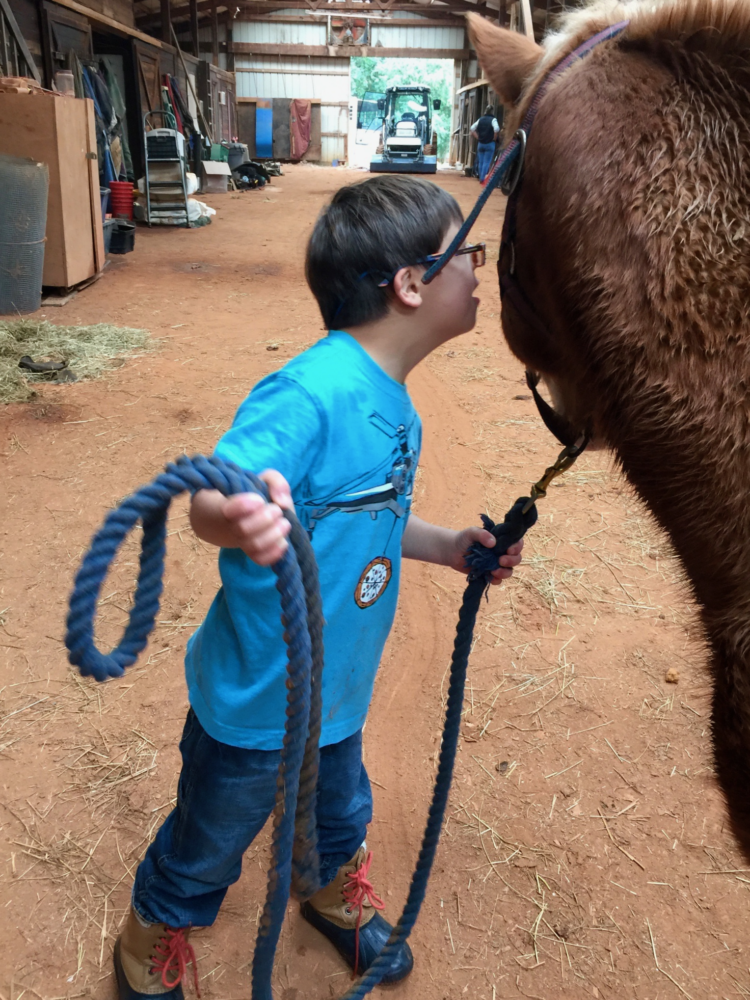 Individuals with almost any cognitive, physical and/or emotional disability can benefit from safe, supervised interaction with equines.  Because horseback riding gently and rhythmically moves the rider's body in a manner similar to a human gait, riders with physical disabilities often show improvement in flexibility, balance and muscle strength.  For individuals with mental or emotional challenges, the unique relationship formed with the horse can lead to increased confidence, patience and self-esteem.  Therapeutic riding gives many of our students the opportunity to set aside crutches, wheelchairs and impairments while in the saddle.
Therapy experts have found that individuals with challenges respond to horses in ways that can't be duplicated in traditional clinical environments.  Our horses accept unconditionally and the bonds that develop become a vital part of the therapy.
*NOTE:  New therapy clients must fill out a New Client Form.  All riders must fill out a Liability Waiver and Rider Agreement.
Therapeutic Riding Sessions
Private therapeutic lesson–  $60 per hour.
Group therapeutic lesson – $50 per hour.  (2 – 5 riders per group.)
Sibling/family accompanying rider(s) – $40 per additional family member per hour when accompanying a therapeutic client.
We have an Equine Assisted Psychotherapy Program that combines therapeutic horsemanship with dialectical behavior therapy (DBT) based life skills with Peer Support Specialists & Life Coaches that have recovered.  You can use one of the therapists that work with us regularly or engage your own therapist.
REFERRAL DISCOUNT:  20% off one monthly tuition fee when you refer another client that signs up!
CALL US TO BOOK A RIDING SESSION

(470) 208-1202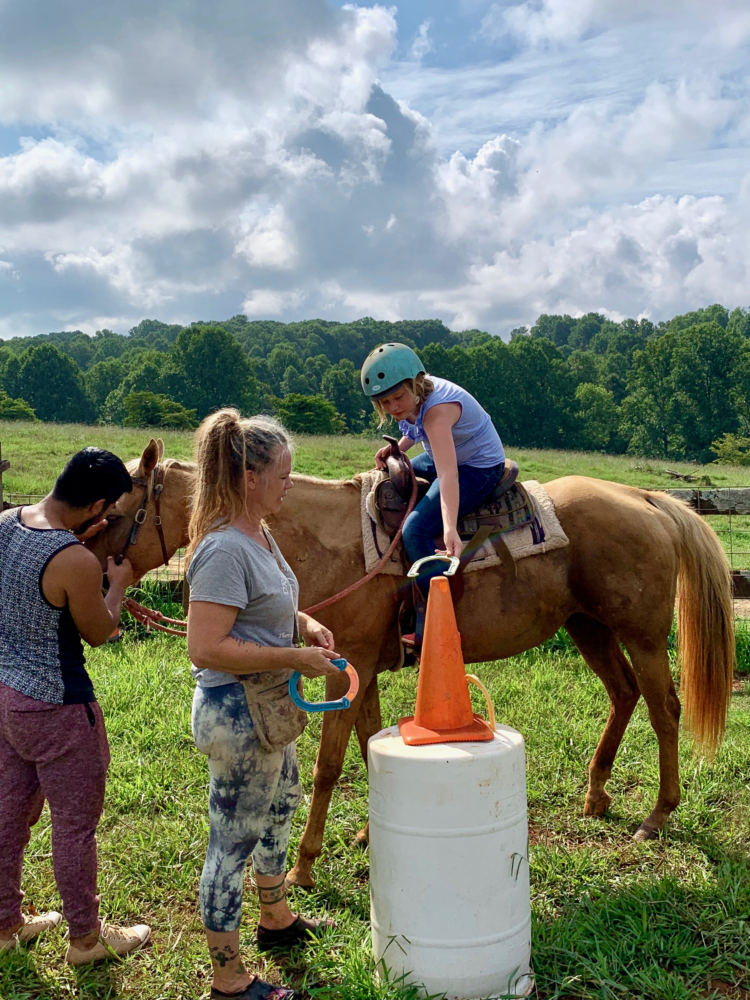 If the outside temperature is below 40°F or above 92°F, there will be no riding.  NO EXCEPTIONS.  No individual notice(s) will be issued by the Center, but the local temperature and conditions are posted here (below) on the website for reference.  
If a severe weather alert issued by the Weather Service, there will be no lessons.
Current Conditions at the lodge in Dahlonega, GA
48°
Clear
6:56 am4:30 pm EST
Feels like: 45°F
Wind: 7mph WSW
Humidity: 48%
Pressure: 29.95"Hg
UV index: 0
52/34°F
48/41°F
61/37°F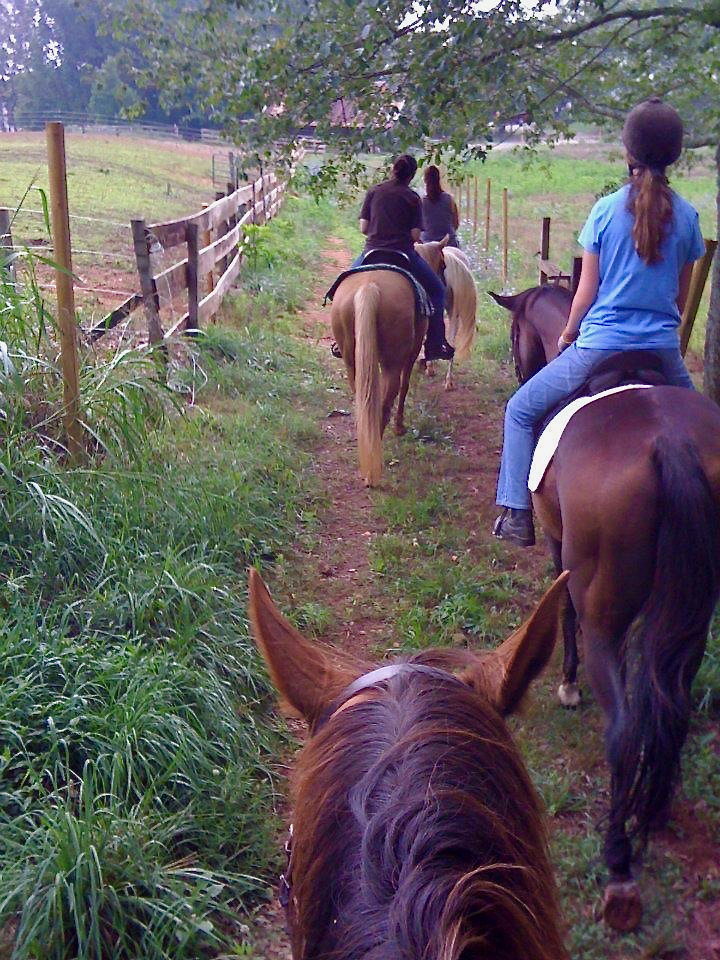 Featuring Conflict Resolution & Team Building!
Conflict Resolution:
Does your work environment experience TOO much competition that leads to lack of needed communication, back biting & even some sabotage? We can help remedy that!! Specifically designed group exercises to cure the "Me First!" & "Win at ALL Costs" mentality.
Team Building:
Have you put together your "Dream Team" or have "Diamonds in the Rough" that are having a hard time working cohesively? We can help unify them with bonding & supporting exercises.
* $325 per hour with 4 horses.
* Minimum 3 hours
We have programs for individuals and groups that have suffered severely life altering traumatic events such as childhood or adult sexual abuse, service combat or severe neglect.
Individual or groups available based on assessed need.
The groups consist of 3 to 5 clients meeting 2 to 3 times per week for two hour sessions.  The program is monitored and supervised by a licensed behavioral health provider that specializes in these areas as well as a Peer Support Specialist who has recovered from trauma using our method and is trained in dialectical behavior life skills therapy and is a PATH certified therapeutic riding instructor.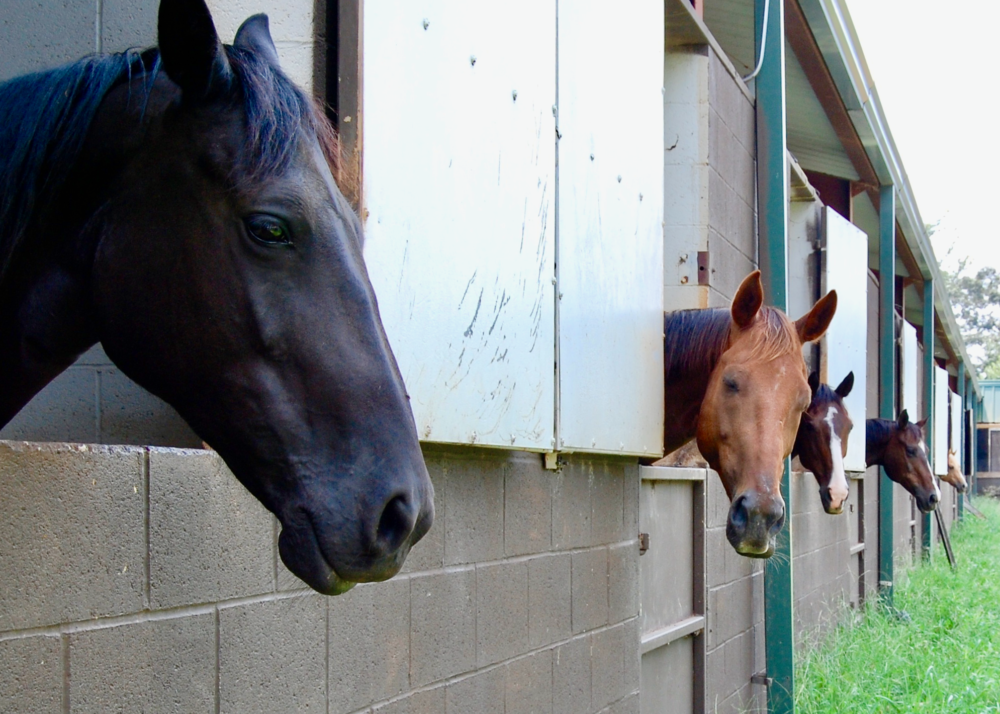 Dream Power Therapy serves many individuals and groups with many needs and challenges.  And while our mission remains to partner to provide these services at as little cost to our clients as possible, Dream Power is committed to offering a 100% exemption when it comes to services for our veteran clients.  We do sometimes work with individual veterans that insist on paying their way, and will respect their wishes and offer them the opportunity to do what they have always done, to serve as a method to fulfill any obligation they may feel.  That can come in many forms of volunteering with Dream Power from working with other veterans and clients, to helping with the herd or maintenance of the barn and facilities.  Veterans interested in any of our services are encouraged to contact us directly for more information or simply book an introductory ride and use the code "TY4URSVC" at checkout to discount the price to $0.00.

"No one can teach riding so well as a horse."